November 3, 2021

Comments:

0

Posted by:

admin
MORE ARTICLES
November 2, 2021 Samantha Nash Leave a Comment
Carolyn Barber is the Ron and Carol Cope Professor of Music and Director of Bands at the University of Nebraska-Lincoln's Glenn Korff School of Music. She began her career as a lecturer and assistant to the dean of the Northwestern University School of Music, and also served as the director of bands at the University of Wisconsin-La Crosse. Apart from her conducting and teaching at UW-La Crosse, Dr. Barber served for five years as the principal horn of the La Crosse Symphony Orchestra.
PBS Wisconsin sat down with her ahead of this year's State Honors Band performance to discuss the importance of music and the challenge of leading students to success during an uncertain time.
The 2021 Wisconsin School Music Association State Honors Concerts were held live and in-person on Oct. 28 and 29, and recordings of the concerts are available on pbswisconsin.org.
PBS Wisconsin: How do you coach students to success despite the barriers posed by technology and social distance?
Carolyn Barber: I'm lucky in that I had a chance to do the Wisconsin State Honors a number of years ago, so I experienced the real way, and that helped me picture how well-prepared the students would be when they came into rehearsal. The great challenge with Zoom for ensembles is that few of us have a microphone that can handle the sound of an instrument being played. There was no way for us to play together unless everyone was on mute. I thought the best approach would be to come in and work with the students on their performance mentality, raising questions like: What is performance? How do we interact and communicate on stage?
It was wonderful when we came together in the huge field house at the summer camp. We sat six feet apart in a big square so that the players could look across at each other, and that tied into ideas we'd been talking about: How do you connect to somebody super far away and make sure your idea lands with them? In this case the ensemble-mate is far away, but when you're in a big concert hall, the audience is far away as well, and you need to make sure it gets all the way to them too.
It was neat to see that when we were in that big box and they were playing for the very first time together, I didn't have to conduct very much. I asked them to start playing, and then I could just sit down and listen. They were connecting; they were working it. They were carrying out the ideas we discussed in a beautiful way.
PBS Wisconsin: Do any of the pieces in this year's band performance have a special meaning to you?
Barber: David Maslanka is a very influential figure for me. He passed away recently, but I had the chance to meet him on a number of occasions when he came to Lincoln to work with our students. His approach to music and to interacting with people in rehearsal has a great deal of resonance for me, and it's something I try to emulate. Even though he's no longer around, his ideas certainly are in the way I work with ensembles. It was great to help the State Honors Band get to know him a little bit. That's why I think "Give Us This Day" is the anchor of this program, because I wanted to bring David along with me to Madison.
PBS Wisconsin: What skills do students learn through participation in the State Honors Program that extend beyond music?
Barber: I would say most of these students won't necessarily be going into music as a career. They're going to be engineers and doctors and lawyers and chefs and athletes and who knows what; all kinds of amazing things. But through their participation, they are learning what I would call ensembleship, which is the ability to be in a group of people – not just musicians, any group of people – and be present, to listen, to understand, to convey a point clearly so that someone else can listen and understand. They learn the ability to negotiate, to compromise and arrive at consensus. That's what ensembles do every minute of every rehearsal and what's even more challenging is they do it non-verbally. These State Honors students will really have a leg up when they get out there into the world, but also when they're in a class or at home around the dinner table.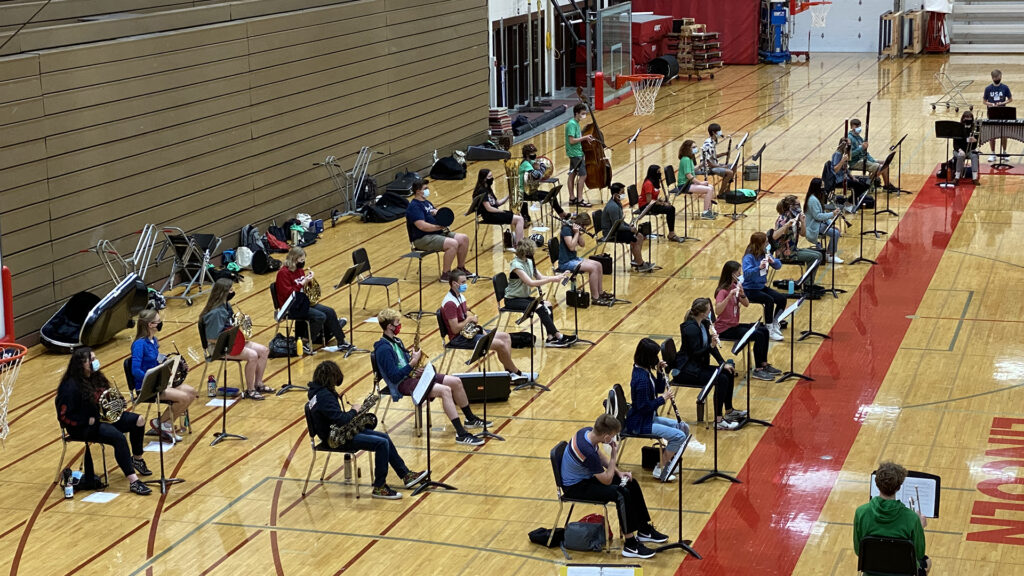 PBS Wisconsin: How does music bring people together?
Barber: Music is a special art. When you listen to interviews of other types of artists – actors, painters – they will often refer to music as unique among the arts, in part because it's non-verbal and non-visual, it's the most abstract. And yet, in many ways, it's the most direct. It goes straight to the emotions in a way that other arts do, but they need to go through different circuitry. I think musicians have something very special to bring to the table because they're calling upon the ears and the way sound connects to emotions.
The composer gives us a proposition, gives us an idea, and the ensemble works with that to try to understand what the composer is attempting to get across. When they think about the composer's intentions, they discover their own motivations and intentions and how both interact. Then they add that all together and send it out to the audience, who adds their own life experience and intentions to it. It becomes a snowball of meaning and experience that encompasses every person who connects with it.
The audience is part of the process. It's not that they just arrive and then at the end go, "Oh, that was great. Thank you." They're going to be swept up into that snowball, and who they are and what they have experienced in their life matters and changes the quality of the work that the ensemble is doing. That is a beautiful thing.
PBS Wisconsin: How did the COVID-19 pandemic change the landscape of music education?
Barber: We all know that budgets are tight and music programs, in a certain way, can seem expensive. You need different music for each concert, while in other subjects you can use the same textbook for a few years. You need instruments, which can last multiple years but still need maintenance to keep them in good working order. Marching programs need uniforms. Then you need storage for all of these things, and that can seem – and is, frankly – expensive.
I think it's easy to forget that the people in charge of the budgets are making incredibly difficult decisions; you have only so much in your budget, and you've got to make it work. But the glorious thing about musical ensembles is you can have, for example, the State Honors Band with 101 students and one teacher. That's the savings of an ensemble, and because they have those ensemble skills, they're able to work more efficiently in the classroom.
What became a huge challenge with the pandemic was that, if the value of music education is in being together and working together and creating sound, suddenly you can't do those things. Then the danger becomes "We don't need you. We need to spend our energy and resources in a different way." Many arts programs had this great fear that if we're reduced now and the audiences go away, will they forget? Will they forget that feeling, that value that you get in a live performance, that you can't get anywhere else?
I'm pleased to say that so far in these first performances where we're able to bring in an audience, they are so excited to be back. They haven't forgotten. I think that reassurance is what our arts educators need, that you're still there for us. You still believe in what we have to offer because the value of it hasn't changed one bit. If anything, it has increased and enhanced that sense of need to figure out how to work together.
Carolyn Barber Made in Wisconsin State Honors Concerts Wisconsin School Music Association
Your email address will not be published. Required fields are marked *





I am the editor of Airwaves, our monthly program guide for members. When I'm not highlighting our incredible programs, I'm pedaling the countryside, hiking at a state park, making soy candles, thrift shopping or hanging out with my husband and miniature schnauzer.
I am a publicist at PBS Wisconsin and was formerly an education producer at the station. Much of my time outside of work is spent farming with my husband and keeping up with our children.
I'm the promotion manager at Wisconsin Public Television. When I'm not letting people know about all of the awesome work the station is doing around the state, you'll find me planning my family's next trip to somewhere fun, warm and likely connected to a Disney Park.
I'm a PBS Wisconsin publicist and former production assistant for the Wisconsin Life project. I enjoy exploring Wisconsin's many lakes and spending the summer months camping around the state.
Inga Witscher is a passionate Wisconsin dairy farmer, cheesemaker and host of PBS Wisconsin's Around the Farm Table.
Luke Zahm is a James Beard-nominated chef and owner of The Driftless Cafe in Viroqua, Wisconsin. He shares his passion for discovering the stories behind the food we eat as host of Wisconsin Foodie.
I am the education communications manager for PBS Wisconsin Education. When I am not raving about our outstanding education resources, you can find me dancing, reading, playing, and exploring with my two young children while trying to stay awake past nine o'clock.
Pete Schwaba is a stand-up comedian, writer, director and host of "Director's Cut" on PBS Wisconsin. His writing and directing credits include "A Guy Thing" and "The Godfather of Green Bay." Pete's TV writing credits include "Are you Smarter than a 5th Grader?" as Jeff Foxworthy's writer/producer and the sports comedy show "Sports Soup." Pete is married with two children and splits time between Los Angeles and the Midwest.
I'm a project manager at PBS Wisconsin, and formerly an associate editor at WisContext. When I'm not scouring the state for fun music and arts content, I'm usually being forced to go on a hike by my demanding border collie or being forced to read on the couch by my demanding cats.
I'm the online content editor at PBS Wisconsin. I make our digital shenanigans compelling, friendly, and interactive so viewers can access great PBS programming over the air, on the web, on a boat, in a moat, in a box, with a fox. . . you catch my drift. I'd love to hear your ideas! Email me at [email protected]
As a publicist for PBS Wisconsin, I love helping people learn about and engage with our wonderful programs. I also enjoy bicycling, baking, playing board games and watching movies (especially musicals).
Email: [email protected]
Phone: 800-422-9707
PBS Wisconsin
Vilas Communications Hall
821 University Ave.
Madison, WI 53706
View map
FAQ
About Us
Blog
<!–Newsletters–>
Broadcast Channels
Reel to Real
Shop
Pressroom
Career Opportunities
Community Engagement
Newsletters
Travel
Events
Donate
Corporate Support
Door to Door
Focus Funds
Friends of PBS Wisconsin
Individual Gifts
Legacy and Planned Giving
Volunteer
Federal Tax ID: 23-7300462
There is no place for racism in our society. We must work together as a community to ensure we no longer teach, or tolerate it. Read full statement here.


PBS Wisconsin is a service of the Wisconsin Educational Communications Board and the University of Wisconsin-Madison. © 2021 All Rights Reserved.
Editorial Policies | Public Inspection Files | Privacy Policy