November 15, 2021

Comments:

0

Posted by:

admin
The Guwahati Municipal Corporation (GMC) has banned therapy or massage in hair-cutting saloons, spas and beauty parlours.
In an order issued on Saturday, the GMC Commissioner said the Guwahati Municipal Corporation guided by the principle of ease of doing business stands by its commitment and has no objection to entrepreneurs taking up the profession of hair-cutting saloons/beauty parlours/spas in the city.
The GMC Commissioner in its order said a number of complaints have been received from citizens alleging several malpractices in certain spas and unisex parlours which have been deemed to be detrimental to a civic society.
Also read: Assam: Goalpara DIPRO drugged in train & looted, left to die in Guwahati railway station
Stating that the Corporation is bound to respect public morality and the laws which govern a civic society, the Corporation has decided to issue trade licenses for spas, beauty parlours and saloons subject to certain guidelines with due regard to the fundamental principle of the Guwahati Municipal Corporation Act.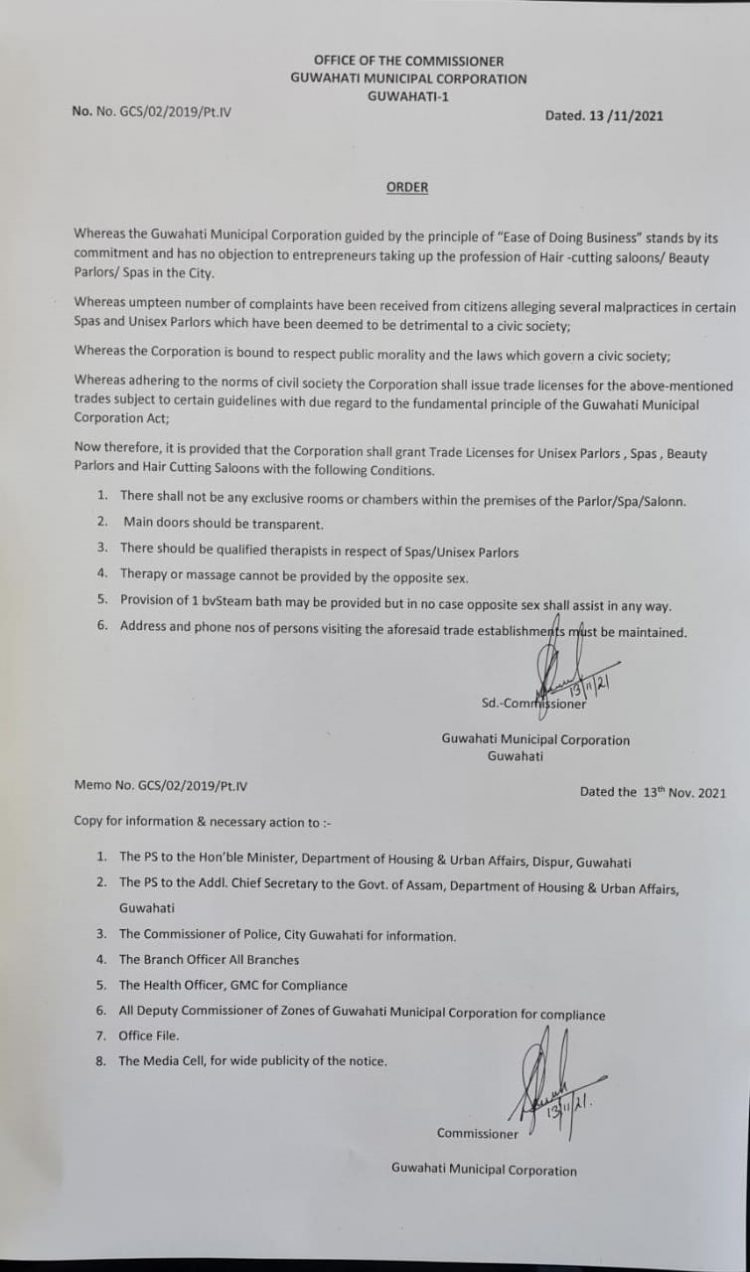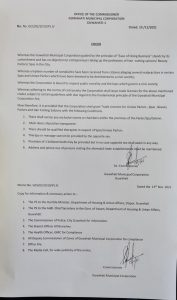 The Corporation has decided to grant trade licenses for unisex parlours, spas, beauty parlours and hair-cutting saloons with the following conditions:
There shall not be any exclusive rooms or chambers within the premises of the parlour/spa/saloon and the main doors should be transparent.
Also read: Assam Police detains 2 journalists on way to Silchar from Tripura
There should be qualified therapists in respect of spas/unisex parlours.
Therapy or massage cannot be provided by the opposite sex.
Provision of 1 bvSteam bath may be provided but in no case, opposite sex shall assist in any way.
Address and phone numbers of persons visiting the aforesaid trade establishments be maintained, the order said.
Northeast Now is a multi-app based hyper-regional bilingual news portal. Led by a group of professionals, the digital news platform covers every inch of the eight states of northeast India and the five neighbouring countries. It is the first of its kind new media initiative in the northeast, and is based in Guwahati. As the political dynamics in the northeast is intricate and fluid, Northeast Now is always politically neutral.
© 2019 – Maintained by EZEN Software & Technology Pvt. Ltd
© 2019 – Maintained by EZEN Software & Technology Pvt. Ltd