January 17, 2023

Comments:

0

Posted by:

admin
THIRTY-TWO YEARS AFTER immigrating to Houston from Vietnam, Tom Tran has opened his 50th nail salon — and it's the biggest one in Texas. The 10,000-square-foot Milano Nail Spa – The Heights, located in the mixed-use complex just off I-10 and Studemont that is also home to SheSpace and First Watch, might even take the title of the largest in the U.S.
The self-made millionaire behind the Milano Nail Spa and Nails of America brands opened his first nail salon in 1995 with no prior experience. "I'm very proud of this moment, and not only for this beautiful salon, but also the opportunities that the nail industry has created for so many people in this country — a high percentage from Vietnam like me," he said in a statement. "Nail technicians can often be the focus of jokes and stereotypes, but this business is proving over and over that it can be a path of success for talented, hard-working people."
A key to Tran's success might be his belief in his fellow immigrants, and his willingness to treat them fairly and offer opportunities for growth; managing partners of his salons earn six-figure salaries, and technicians work in colorful, clean and creative environments. At the Heights location, which first opened at the end of 2021, manager Brian Nguyen leads 20 receptionists and 110 nail techs.
Complimentary cocktails, seemingly endless color and finish options, and a focus on cleanliness has proven to be a recipe for success — and Tran intends to take it national, with a goal of between 10 and 20 openings annually in cities in Colorado, Arizona and beyond, for the foreseeable future.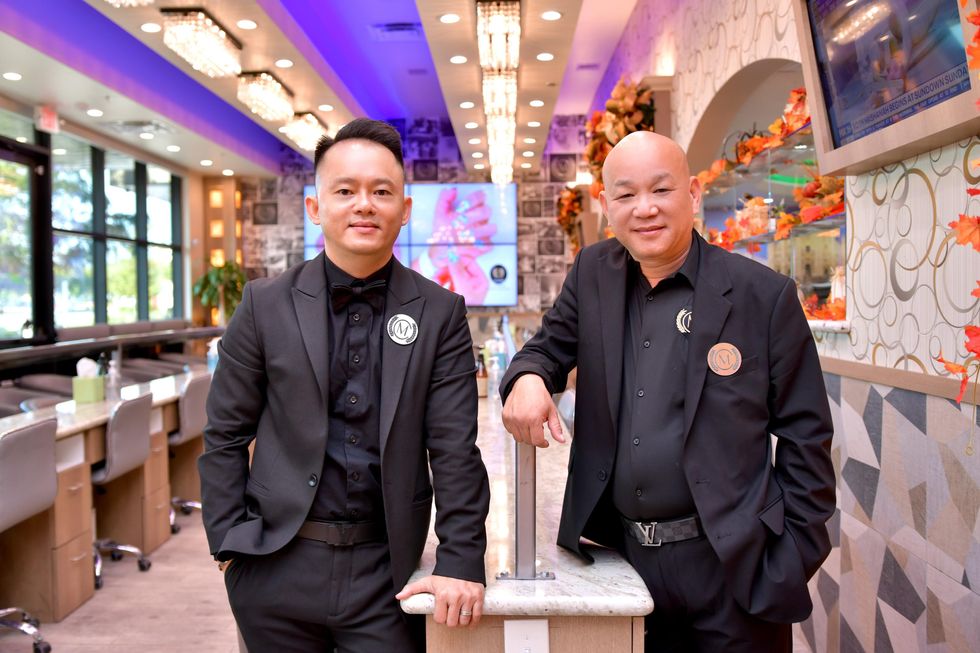 Brian Nguyen and Tom Tran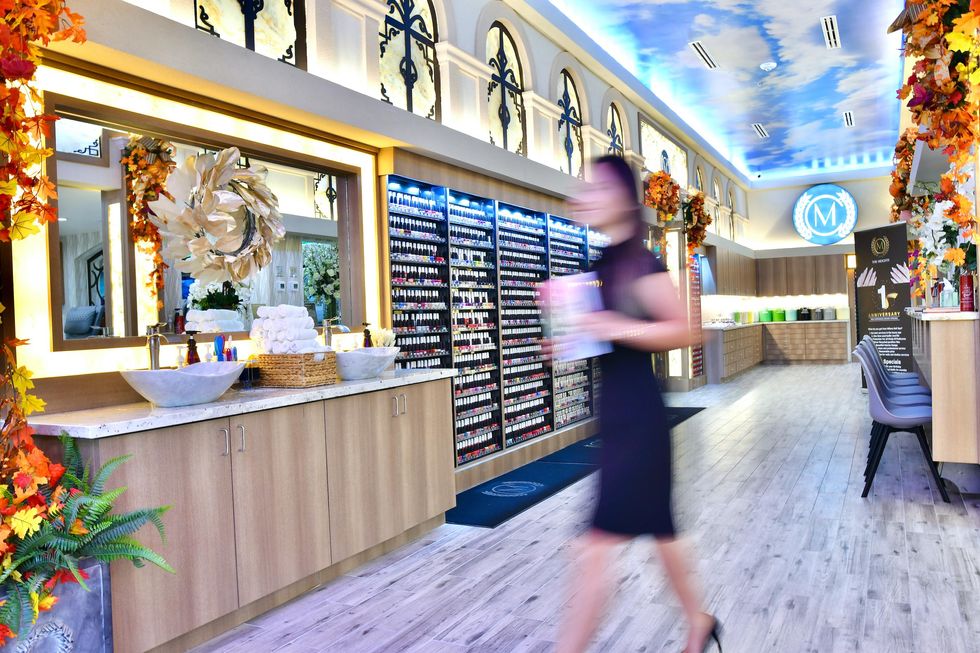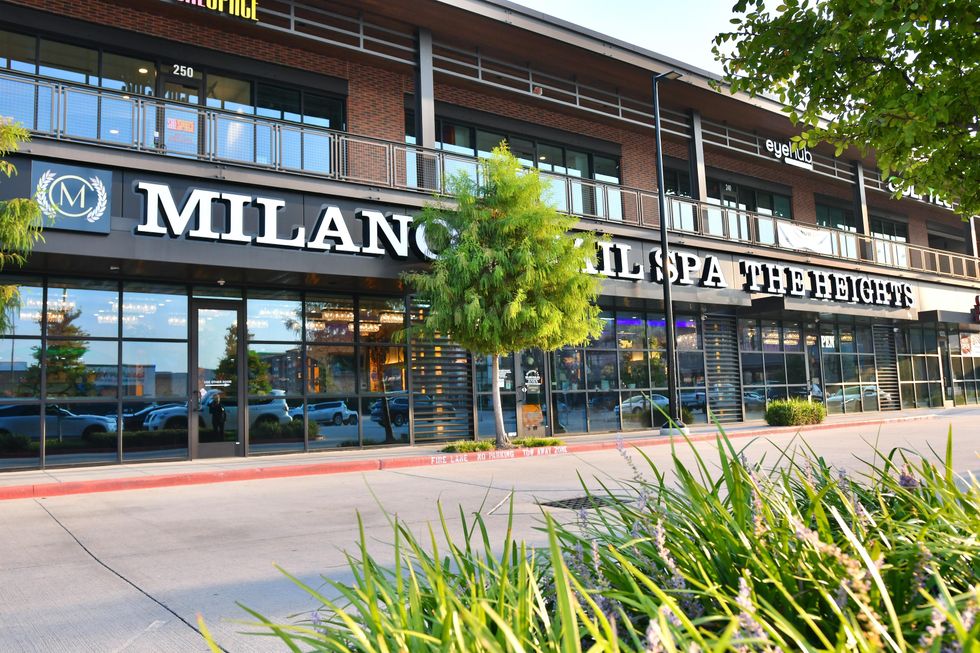 Brian Nguyen and Tom Tran
Clare Leppert and Clementine, the Cavachon. Leigh Leppert and Benny, the Bernedoodle.
HOW DID YOU come together as a team? This fall, we are celebrating the introduction of an exciting real estate collaboration between Clare Leppert, longtime Houston Realtor®, and daughter Leigh Leppert. Clare shared a 20+ year real estate partnership with her mother, Bette Carpenter, until Bette's death in 2016. Having worked solo for several years, Clare in 2021 was awarded Houston Business Journal's No. 2 Luxury Realtor® in Houston. Leigh, who has been working in marketing for the past decade, has always shared a passion for real estate and watched Clare successfully balance family and career. We are excited to re-create the next generation of a mother-daughter duo at Compass!
Tell us about your business. What's unique about your partnership and how does the relationship benefit the business? Clare's experience in the luxury market for the last 20+ years is enhanced by Leigh's fresh take on marketing and insight on the ever-evolving Houston neighborhoods. We recognize that real estate is so much more than just "the house." Exceeding client expectations, marketing, negotiating, hand-holding, and successfully maneuvering in changing markets are what we do best.
What is the Leppert Ladies' secret to success? We take a family approach to real estate. Clare and Leigh provide a combination of grit and grace, constantly striving to protect and honor clients' privacy and to prioritize clients' best interests.
What makes your partnership effective? Clients benefit from the expertise of not one but two Realtors! Clare is a top-producing, seasoned agent in the luxury market who grew up in River Oaks and knows the tried and true Houston neighborhoods. Leigh offers knowledge about current marketing and advertising strategies and is a connoisseur of Houston hotspots and happenings.
What can Houston expect from this duo? We specialize in assisting clients in all seasons of life. From leasing or purchasing for the first time to empty-nesting and beyond, Clare and Leigh will be there! Our goal is to be your real estate partner for generations to come.
Montrose Collective (photo by Chase Daniel)
ONE OF HOUSTON'S hottest mixed-use developments, Montrose Collective, continues to add to its roster of diverse tenants.
Veteran restaurateur Grant Cooper opens his latest, Graffiti Raw, at Montrose Collective this month; the "coastal cool" raw bar will offer fire-grilled proteins, fresh ceviche, crudos and a full cocktail menu. In addition, the Austin-based "better-for-you" cafe, Picnik, is expected to open this spring, offering keto, paleo, vegetarian and gluten-free options on an expansive patio.
Ireland-based med spa Sisu — with Botox, fillers and fat-reduction treatments — opens in February, while later in the year, Montrose Collective will add New York's popular Glosslab nail salon as well as Skin Laundry, a laser-facials spa. And Studio BE, a yoga and pilates studio now open in the Heights, has announced its second studio will open at the development in 2023.
"With the opening of new hot spots, Montrose Collective is poised for continued growth throughout 2023 and beyond," says Barton Kelly, Principal at Radom Capital, in a statement. "We are redefining spaces where our visitors not only shop but dine, mingle and participate in thoughtful activities."
Each month, visitors can join in Sip and Strolls wine nights, Sunday Savasana donation-based yoga classes, and "makers markets" on the tree-lined Paseo. This spring, the Plant Project will pop up on the Paseo, with plant-potting workshops with other local businesses like Ixchel Market. Ixchel specializes in hand-crafted Latin American goods, vintage finds and a space to build culture and community.
Already home to restaurants like Marmo, as well as boutique shopping and office space, the development is 97 percent leased, with plans to reach full occupancy by the end of 2023.
Music Director Juraj Valcuha (photo by Luciano Romano) and bassoonist Rian Craypo
THE POWER OF music lies in its capacity to provoke extreme reactions in a listening audience. Which is a polite way of describing what composer Philip Glass repeatedly endured early in his career, when audiences threw tomatoes at him and his musicians.
But that's mild compared to what took place on May 29, 1913, at the Théâtre des Champs-Élysées, a few minutes into the performance of a new ballet with music by a young Russian composer named Igor Stravinsky. Stravinsky's score reveled in dissonance; plaintive Slavic folk melodies collided with alarming, unpredictable rhythms; winds and brass groaned and howled in a kind of orgiastic frenzy, while timpani pounded out what Leonard Bernstein would later describe as "a kind of primitive jazz."
Half the audience loved it — and the other half hated it. Screaming and fistfights ensued, and the premiere of Le Sacre du printemps ("The Holy Spring"), popularly known as The Rite of Spring, went down in history as a scandal, though the genius of what Stravinsky had composed was quickly acknowledged. On Jan 20, 21 and 22, the Houston Symphony will tackle Igor Stravinsky's The Rite of Spring along with Silvestre Revueltas' Sensemayá and Tchaikovsky's majestic Piano Concerto No. 1 in a program titled Riots and Scandals. Still-new Symphony music director Juraj Valčuha conducts.
One of the many famous musical moments in The Rite of Spring is the opening bassoon melody, based on a Lithuanian wedding song, and one of the hardest solos ever written for the instrument. "It's a very simple beginning to a very long, complicated piece," says principal bassoonist Rian Craypo. "We bassoonists spend years learning how to play it, and play it well, and it's literally over in fifteen seconds!"
Craypo doesn't recall the exact moment she first heard The Rite of Spring — but she does remember seeing Disney's 1940 animated film Fantasia, in which excerpts from Stravinsky's score accompany a violent T-rex and stegosaurus smack-down. Progressive rock and jazz musicians have since drawn inspiration from The Rite of Spring, and its asymmetric polyrhythms can be heard in West African drumming. "The music is so primal," says Craypo of The Rite of Spring, which was inspired by a dream Stravinsky had of a young girl in a pagan ceremony dancing herself to death. Craypo says she and her fellow musicians must go beyond the score's notation to convey the primordial "gestures, feelings and images" Stravinsky imagined.
The bassoon solo is high enough to warrant a more specialized reed, and Craypo, who like most professional bassoonists makes her own reeds, has spent weeks making and experimenting with different reeds to find one that will give her the precise sound she wants to hear. "There's a beauty in a more basic approach," says Craypo of her solo. "I love to play it more simply and in time, and not make too much drama out of the fermatas." In performance, Craypo will use one reed for the opening solo, and switch to another for the remainder of the piece.
With so many unexpected combinations of instruments and shocking moments throughout the score, this weekend's performances of The Rite of Spring will give both listeners and the members of the HSO the chance to rediscover the music and be transported to that fateful premiere at Théâtre des Champs-Élysées, when Stravinsky redefined the history of Western classical music.
"I get greedy for all of these different sounds," says Craypo. "It's so exciting to hear these different colors. It tickles your ear and your brain in a way that's really wonderful."