September 15, 2021

Comments:

0

Posted by:

admin
(L-R): Peter Blum with John Sikura at the Thoroughbred Owners and Breeders Association's national awards dinner at Hill 'n' Dale at Xalapa Farm
With extra reason to celebrate as the industry and society continue to emerge from the COVID-19 pandemic, the Thoroughbred Owners and Breeders Association took time to recognize some of North America's top owners and breeders at its national awards dinner Sept. 11 at Hill 'n' Dale at Xalapa Farm near Paris, Ky.
A year ago the TOBA Awards, like many events in the industry and beyond, were conducted virtually. But the event returned to in-person Saturday and was capped by a performance by the "Empress of Soul," Gladys Knight.
Emerging with some of the biggest prizes of the night were national owner of the year Gary Barber, national breeder of the year Peter Blum, and national small breeder of the year Angie Moore.
Barber was a repeat winner after receiving the same honor in 2019.
"This is a great honor after our most successful year in racing last year," said Barber in a recorded message. He thanked the trainers, jockeys, and backstretch workers who kept racing going in a difficult 2020.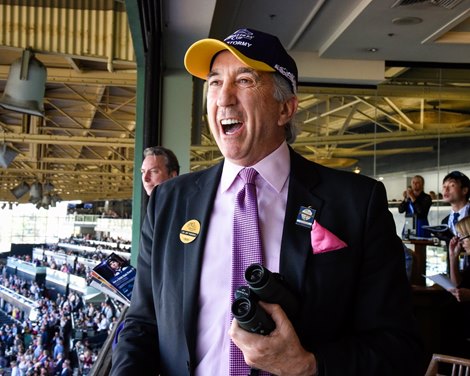 Alone or in partnership, Barber, the chairman and CEO of Spyglass Media Group, succeeded with a Breeders' Cup winner and champion, a classic winner-turned-grass miler, a hard-knocking turf standout, and graded/group winners galore. For Barber, 2019 Preakness Stakes (G1) victor War of Will showed his versatility and talent in winning the 2020 Maker's Mark Mile Stakes (G1T) at Keeneland by a nose. In partnership with Wachtel Stable and breeder Swilcan Stables, Barber secured victory in the Breeders' Cup Juvenile Fillies (G1) with Vequist , who went on to be named champion 2-year-old filly of 2020.
Long-time breeder Peter Blum was honored off a season in which he bred Horse of the Year Authentic . The first grade 1 winner for Blum, Devil His Due, was foaled in 1989. Authentic won a delayed edition of the Kentucky Derby Presented by Woodford Reserve (G1) at Churchill Downs then beat older horses in the Longines Breeders' Cup Classic (G1) at Keeneland.
"I've been doing this a long time and and what an honor it is to be chosen by the other owners and breeders at TOBA as the National Breeder of the Year," Blum said.
"It's the honor of a lifetime."
Kentucky-bred Authentic (Into Mischief —Flawless, by Mr. Greeley) was campaigned by Spendthrift Farm, MyRacehorse Stable, Madaket Stables, and Starlight Racing.
Meanwhile, Maryland-based breeder Angie Moore saw her first Breeders' Cup winner in record-breaking Big Ass Fans Dirt Mile (G1) winner Knicks Go . Campaigned by Korea Racing Authority, Maryland-bred Knicks Go (Paynter —Kosmo's Buddy, by Outflanker), a grade 1 winner at 2, continues to excel in 2021 at age 5 off his recent win in the Whitney Stakes (G1).
"We're so thankful for the journey that Knicks Go has taken us on," said Moore, crediting daughter Sabrina with much of the work.
Sabrina Moore acknowledged the Maryland Horse Breeders Association with helping them get started and credited the workers at their farm.
"We're a small farm but it takes a lot of people, even at a small farm, to get us here," she said.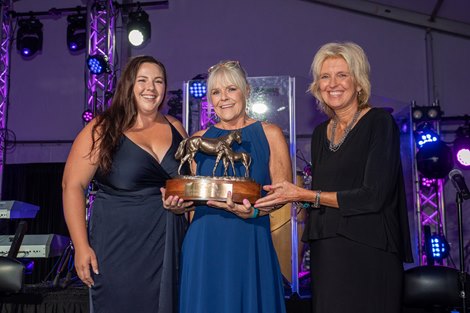 Previously announced state breeders of the year, honored at a Sept. 10 luncheon, included: Arkansas, Bill and Mary McDowell; California, George Krikorian; Canada, (co-winners) Lawrence Cordes and Ivan Dalos; Florida, Live Oak Stud; Indiana, Deann and Greg Baer; Iowa, H. Allen Poindexter; and Godolphin, Kentucky.
Other top state breeders included: Louisiana, Tri-Star Racing; Maryland, Angie and Sabrina Moore; Minnesota, Winchester Place Thoroughbreds; New Jersey, John Bowers Jr. (Roseland Farm); New Mexico, Estate of R.D. Hubbard; New York, Twin Creeks Farm; Oregon, Pat and Janet Cosgrove; Pennsylvania, Blackstone Farm; South Carolina, Franklin Smith; Texas, James Wessel; Virginia, Lazy Lane Farm; and Washington, Darrin Paul.
Other national award winners recognized Saturday included Claiming Crown Horse of the Year Frost Or Frippery , campaigned by Steve Landers Racing; industry service award winner Samantha Siegel, Robert N. Clay Conservation Award winners John and Leslie Malone, and broodmare of the year Drumette, dam of champion Monomoy Girl . The Cot Campbell partnership of the year went to Eclipse Thoroughbred Partners while Kaytee Mountain secured the Rood and Riddle sport horse of the year award.
Kaytee Mountain's owner and rider Sue Gallagher noted the success of all the Thoroughbreds she's owned. She said if owners or breeders have a horse that isn't working out on the track, to give her a call.
"I'll take them. I just love them," she said.
Download Today's Edition
Learn More or Download the App
More BloodHorse+